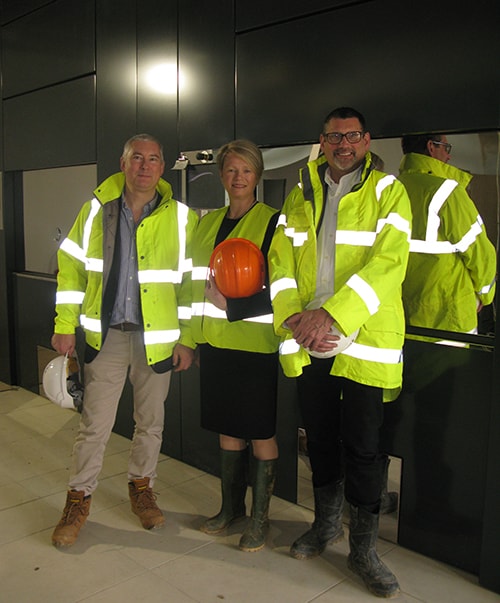 One hour away from London, the technical construction of the crematorium in Charlton is being completed. Under the title 'Pure Cremation' the British perceive cremation completely different than they used to. Next of kin can now choose themselves what the farewell should look like; with or without a ceremony. In the latter case the farewell is held elsewhere, at home or in whatever other place. The deceased will then be collected and cremated in Charlton. Bryan and Catherine Powell manage and run this new asset for England.

The two cremators (DFW 6000) in the not yet completed building have been operational since January 2019 and in this short time (until early April) more than 500 cremations were carried out. Bryan: "The demand for this form of cremation is increasing immensely. Across the country, people are starting to realise that there is a choice now, which is experienced as very positive. Choosing a traditional funeral with a complete ceremony is an option. If you want to do the farewell event differently, and finances obviously play an important role, you can do so with Pure Cremation. Bryan expects to carry out more than 3000 cremations a year. This means that during the construction of the crematorium, the expansion of the number of cremators had already been taken into account.

"People have a choice here". Bryan, who has been working in the funeral industry since 1987, designed 'Pure Cremation'. In the years that he worked as a funeral director, the cremations were carried out elsewhere. The costs involved were, of course, significant. That was the reason for considering setting up his own crematorium. Bryan found a location near the town of Charlton and called it 'a mature area', with lots of green and tall trees. "Everything is possible here. Any funeral director is welcome here with his client to celebrate life and the farewell in a traditional way. Either a small group of people can witness the insertion of the coffin into the cremator here, or they can say goodbye elsewhere and we simple take care of the cremation. People have a choice, which is new here.

In his search for the right suppliers for what should become a special crematorium – on all fronts – Bryan made contact with several cremator manufacturers, including DFW Europe. Bryan: What immediately appealed to me was the materials used by DFW Europe. Every part of the process: the cremator, the filter installation, the cremulator, is of a perfect quality and works individually. This means that when work needs to be done on individual components, the entire cremation process does not come to a standstill. And it is the people. We received their help and they came up with ideas and solutions. The team has so much knowledge that you immediately feel in safe hands. We could not have made a better choice than to team up with DFW Europe.